APK Solutions –
Digital Photography Training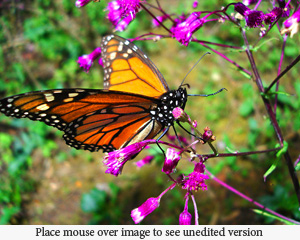 Would you like to use your digital camera to take a photograph (like the one on the left), edit it and transform it from an ordinary snapshot into something vibrant? I photographed this beautiful Monarch butterfly high up in the mountains of Michoacan, Mexico, with a Sony 5 megapixel point-and-shoot camera. I then used photo-editing tools (many of which are available for free on both Macintosh and PC platforms) to enhance the image.
If you're new to digital photography, let me or one of my talented team members introduce you to your camera, explain the particular settings you have available, advise you on how to store your images, and most importantly, help you develop your eye. This can be done practicing shooting both indoors and on location.
We'll help you become familiar with the built in flash functions in your digital camera, so that you can start producing images which are better lit and have finer detail. We'll teach you the principles of reliably shooting sharp images, and how to further sharpen images correctly on your computer.
We will tailor the lessons to your individual needs and your experience level. These can include: downloading photos to the computer and installing necessary software; learning image editing, sizing, and color correction; choosing optimal printer settings;re-sizing for emailand understanding the principles of working with color. We will teach you the basic principles of creating a digital print that surpasses the quality from 35mm film, share with you valuable photo editing techniques, and teach you how to turn ordinary snapshots into photographs you're proud to share with friends and family.
Do you have a website? Would you like to increase the time people spend there? Let us teach you image-editing techniques that are specifically geared towards creating exceptional web images which will attract visitors and increase business. There is no need to lose customers due to poorly processed photos.
On-site lessons and consultation are available in the San Francisco Bay area to individuals and groups at very reasonable rates. As members of APA (Advertising Photographers of America) and San Francisco Digital Imaging Group, we feel we will be able to greatly enhance your digital photography experience.